GBRF
Our Vision
Our company wants to make a difference, through excellence in products and services and through lasting relationships with our customers, our employees and our community.  We endeavour to be a leader in our industry.
Our Values
Quality in everything we do:
Only products meeting our high sense of quality are shipped
A strong devotion to service
Working with professionalism, urgency, commitment and loyalty
Honesty and Integrity
We will be open and transparent in our dealings
Integrity is doing what we say we will do
 Accountability
We take ownership of what we do, both on an individual as on a corporate level:
Respect for everyone
We understand we are all different
We understand we all have great things to offer
What we expect from all our people:
Communicate clearly and effectively
Work together towards our vision
Solve problems and recommend/implement solutions
Work with professionalism, by working in a respectful, ethical, confidential and independent manner
Deliver quality work efficiently and timely
Serve our customers by exceeding customer expectations
Leadership & History
G.B.R.F. was incorporated in 2001 and initially started as a weaver of fiberglass tapes of 6 and 9 oz (200 and 300 g/m²). This was followed in 2003 with the introduction of woven rovings of 15, 18, 24 oz or 450, 600, 750 g/m². In 2004 we introduced Kevlar® and carbon to our product line. The company grew quickly, and in 2008 we outgrew our modest facility and moved to a modern 20,000 sq. ft building in Midland, Ontario.  From being a local supplier we grew into a truly North American supplier. G.B.R.F.'s leadership has solid roots in the composites industry. All our senior staff has 25 plus years in the industry, in Research & Development, Management, Accounting and Manufacturing. We are proud of what we have achieved in a relative short time, of weathering a major recession successfully and of developing a strong relationship with customers all over North America.
Community
Georgian Bay Fabrics is located in Midland, Ontario. Situated at the southern end of Georgian Bay, this area is famous for its outdoor activities. In the summer this means water sports, nature adventures, golf courses and resorts. In the fall one can enjoy some of the best autumn colours of North America. In winter the area buzzes with snow mobiles and there are many locations to go both downhill and cross country skiing. The area is also rich in historical sites; for example: Sainte-Marie among the Hurons, an outpost of the French empire in the early 1600's and Discovery Harbour in neighbouring Penetanguishene.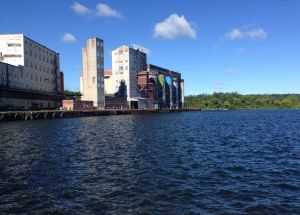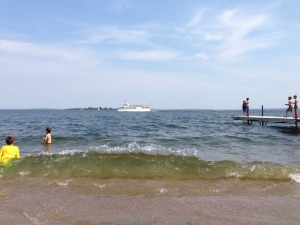 For more information on the area:
http://experience.simcoe.ca/
Georgian Bay Reinforcement Fabrics aims to be a responsible corporate citizen. We support and participate in activities that benefit the community we live in; we are conscious of our environmental foot print, within our means we financially support children's and youth's activities in our community. Some examples of what we do:
We recycle all materials possible even if it is at a cost. All here at Georgian Bay Fabrics are committed to reducing the amount we put into landfills.
We have an arrangement with a local company, who uses our scrapped fabric.
We re-use wherever we can, this includes some packaging for shipments to customers.
We actively monitor energy use, and look for ways to minimize our carbon footprint.